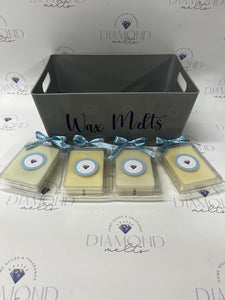 ---
Reviews
Customer Reviews
02/02/2021
Storage bundle deal
I have 2 for all my lovely wax melts
Amanda O.

United Kingdom
06/29/2020
Love it
Absolutely love it love the scents I bought with it and it stores all my wax melts would definitely recommend my daughter really wanted the Seychelles one she loves the smell of it love the smell of all 4 I got with my box ❤❤
Sarah

United Kingdom
02/02/2020
Storage boxes
I love these bundle boxes I now have two they are amazing to store your melts in
Charlene S.

United Kingdom
11/08/2019
Cant wait to try more!
This was my first time buying wax melts online as I could never decide on what scent to pick! I decided to go for the bundle deal as it was great value for money, the black ***** melt is absolutely beautiful and has lasted me days and it's been burning constantly! Cant wait to try my other ones and will definitely be ordering again!x
Zoe R.

United Kingdom